Business Manager
Average Salary $62,00
A Business Manager is responsible for overseeing business operations across departments. Their duties include hiring new staff, conducting office meetings and coming up with proactive strategies to improve productivity and employee morale. Business managers are needed in almost every company and in every sector. This high-demand career field requires strong communication skills and the ability to effectively coach, engage & develop employees.
Students enrolled in this career track will gain the necessary skills for a Business Manager which will have the following responsibilities:
Overseeing the activities of other workers.
Hiring, training, and evaluating new employees.
Keeping the department on track to meet its financial goals.
Reporting to other executives or to the owner directly.
Directs team or group leaders and ensures workers have the resources needed to complete their work.
Motivates workers through incentives and positive feedback.
Develops and implements budgets and prepares reports for management.
Section One

In this section, students will build an essential knowledge of business types, requirements to start a business, understanding of finances, business law, marketing, sales, customer service, and more. Once students have built this foundational understanding, students will learn about professional conduct, teamwork, and managerial skills, while also examining careers in business technology. The basics of word processing, spreadsheets, databases, and presentation software are also explored so that students become better prepared for jobs in this field.
Preparation for the following Industry Certification:
ASK Fundamental Business Concepts
Section Two

In this section, students will see that effective management is key to any organization's success. First, students will explore foundational management concepts such as leadership, managing teams, entrepreneurship, global business, finance, and technology and innovation, pulling these concepts together in a capstone project. Then, students will explore the ins and outs of managerial careers from the responsibilities businesses have towards customers, hiring the right employees, and human resources' role in ensuring job satisfaction and that rules and laws are being followed.
Preparation for the following Industry Certification:
ASK Fundamental Business Concepts
ASK Fundamentals of Ethics
NOCTI General Management (Pathway Assessment)
Section Three

In this Section, students will understand the crucial nature of company compliance and the complex legal requirements that impact business operations and decisions. First, students will explore what it means to run an ethical business; how to keep intellectual property, technology, and e-commerce safe and protected; understand insurance and taxes; and how to have a healthy workplace environment. Then, students will examine how state and federal regulations work to protect consumer and employees' rights, protect society and the environment, and understand how business contracts can work to protect everyone. They will also discover the differences between criminal and civil law.
Preparation for the following Industry Certifications:
CME Certified Manager Exam
Section Four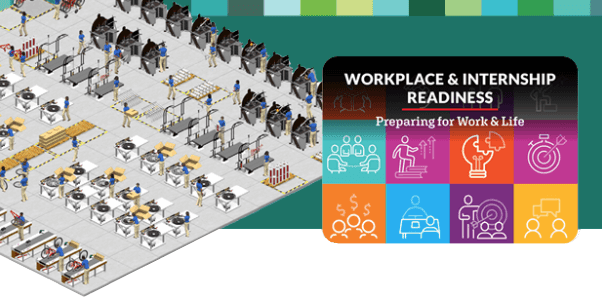 In this final section of their Career Ready Academy, students will participate in a virtual management internship program which will enable them to gain a better understanding of the workplace environment. They'll learn how to communicate with others, manage their time, work with a team, take initiative, set goals, problem-solve, and prepare for their first professional job experience.
Students will learn to make key decisions as the manager of their own simulated company and learn how to grow and manage their business. Students learn the fundamentals of Human Resources including recruiting, hiring, employee supervision, and more.
They'll end their internship experience with an exciting end-of-year culminating project.
Already started high school?
Want to fast track and earn an industry certification? Contact our Academic Advisor to build a customized educational plan today!