Chef
Average Salary $50,309
Chefs plan menus and order supplies. Chefs and head cooks oversee the daily food preparation at restaurants and other places where food is served. They direct kitchen staff and handle any food-related concerns.
Students enrolled in this career track will gain the necessary skills for a Chef which will have the following responsibilities:
Prep; cook; deliver and manage off site catering events for banquets.
Prepare any required drinks or food that is necessary for the banquets.
Train employees on new recipes & preparation procedures for all menu items
Maximize productivity, profit and loss with continual on the job training of BOH staff.
Follow mandated health regulations with a HACCP program and proper sanctification procedures.
Prepare catering orders, private dinners and buffets for senior management.
Prepare specialty foods for receptions, buffets, holidays, and special occasions.
Maintain inventory and price with vendors and place orders for all kitchen and front of house needs.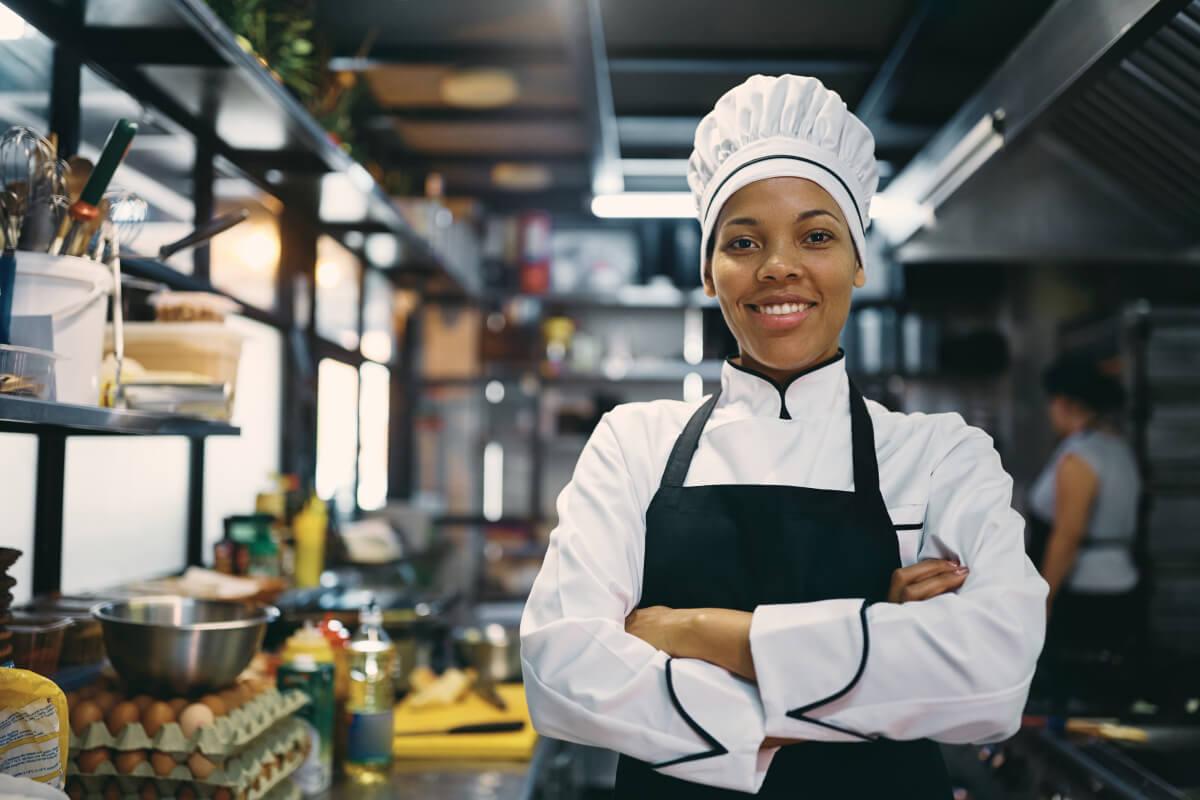 Section One

In this section, students will develop an understanding of some of the essentials pieces of the hotel industry. First, students will be introduced to the thriving industry of hospitality and what goes into successfully operating busy tourist locations from marketing to planning events and more. Then, students will turn their attention to guest safety in the form of food. Students will learn about food preparation safety, keeping workspaces and surfaces clean to prevent foodborne illness, and maintaining food safety compliance.
Preparation for the following Industry Certification:
Section Two

In this section, students will explore the basics of the food industry. First, students will discover the history of food culture, food service, and global cuisines while learning about food science principles and preservation. Then, students will examine sustainable food practices and the benefits of nutrition while maintaining taste, plating, and presentation as they elevate their culinary skills through the creation of stocks, soups, sauces, and learn baking techniques.
Preparation for the following Industry Certification:
Culinary Arts Certification (Family and Consumer Science)
ProChef Level 1 (Culinary Institute of America)
Section Three

In this section, students explore baking and desserts, learn how to prepare proteins, and study nutrition and safety in the kitchen. They'll enhance their understanding of sustainability in the food industry, learn to prepare meals from a global perspective, and dissect the business of cooking, from managing a kitchen to successfully running a catering company. This is a year-long course.
Section Four
In this final section of their Career Ready Academy, students will participate in a virtual hotel internship program which will enable them to gain a better understanding of the workplace environment. They'll learn how to communicate with others, manage their time, work with a team, take initiative, set goals, problem-solve, and prepare for their first professional job experience.
Students will engage in the fast-paced, exciting culinary world, and learn the very tough business decisions that go into running a successful and profitable restaurant. Through the online simulation they'll need to make a number of decisions large and small – picking menu items, laying out the restaurant's floor plan, etc. They'll end their internship experience with an exciting end-of-year culminating project.
Already started high school?
Want to fast track and earn an industry certification? Contact our Academic Advisor to build a customized educational plan today!