Creative Learning Services is the Greenways Academy St. Louis Alternative School
We are a private, accredited, alternative Secondary School that offers:
AdvancEd, WASC and NCAA
1:1 Teacher to Student Ratio.
Teacher works with student throughout their scheduled class time, introducing material, evaluating student progress and assisting the student when needed.
High School (full-time, part-time and single classes)
Middle School (full-time, part-time and single classes)
Summer School (on a flexible schedule so you don't lose vacation or camp)
Credit Recovery (add a class, recover a class, or retake to help your GPA)
Partnerships with Homeschool Parents (Take advantage of our classes and accreditation!)
Diplomas from our nationally recognized and accredited High School.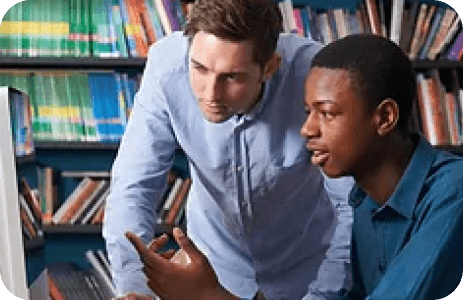 A Typical Day as a Greenways Student
A student come to Greenways Academy for 2-3 hours a day to work on their Math, Science, English and Social Studies. They do this in a one-to-one environment with a certified teacher. You would be amazed at how much curriculum can be covered in a personalized learning environment. Usually, tutoring blocks are 8AM – 10AM, 10AM – 1PM, 1PM – 3PM or some variation. You can pick a time that suits your sleep schedule and prime learning time.
After school, students work on their elective credits. These are very flexible. A student may choose to get a job (work study) or volunteer at a place that they feel passionate (service hours). The student may be an athlete and need those hours to train their sport. A student may want to explore dance, theater, or get an internship at a place of interest. We can transcript those hours as 90 clock hours= ½ credit. We can help families navigate this process if needed.
Students can come to CLS for a quarter, a semester, a year, or even finish their high school diploma.
We work with students who struggle in traditional schools due to:
Learning Disabilities
Medical, Psychological & Addiction Diagnoses
Bullying & Toxic Social Environments
Training and Travel for Athletic, Artistic and Special Interests.
Unique Learning styles, Giftedness, Being Twice Exceptional & Many other scheduling and educational challenges.
Greenways Academy is an accredited school that offers a high school diploma for successful completion of curriculum and required credits.

| Category / Subject | Required Credits |
| --- | --- |
| Required Credits for Graduation | 24 |
| Electives | As Required to Total 24 |
| Electives | 1 |
| Health / PE | 1+ |
| Fine Arts | 2+ |
| Foreign Language | 4 |
| Social Studies | 4 |
| Science | 4 |
| Math | 4 |
| English | 4 |