Web Designer
Average Salary $79,159
Web designers plan, create and code internet sites and web pages, many of which combine text with sounds, pictures, graphics and video clips. A web designer is responsible for creating the design and layout of a website or web pages. It can mean working on a brand new website or updating an already existing site.
Students enrolled in this career track will gain the necessary skills for a Web Designer and will need the following competencies:
Conceptualize creative ideas with clients
Test and improve the design of the website
Establish design guidelines, standards, and best practices
Maintain the appearance of websites by enforcing content standards
Design visual imagery for websites and ensure that they are in line with branding for clients
Work with different content management systems
Communicate design ideas using user flows, process flows, site maps, and wireframes
Incorporate functionalities and features into websites
Design sample pages including colors and fonts
Prepare design plans and present the website structure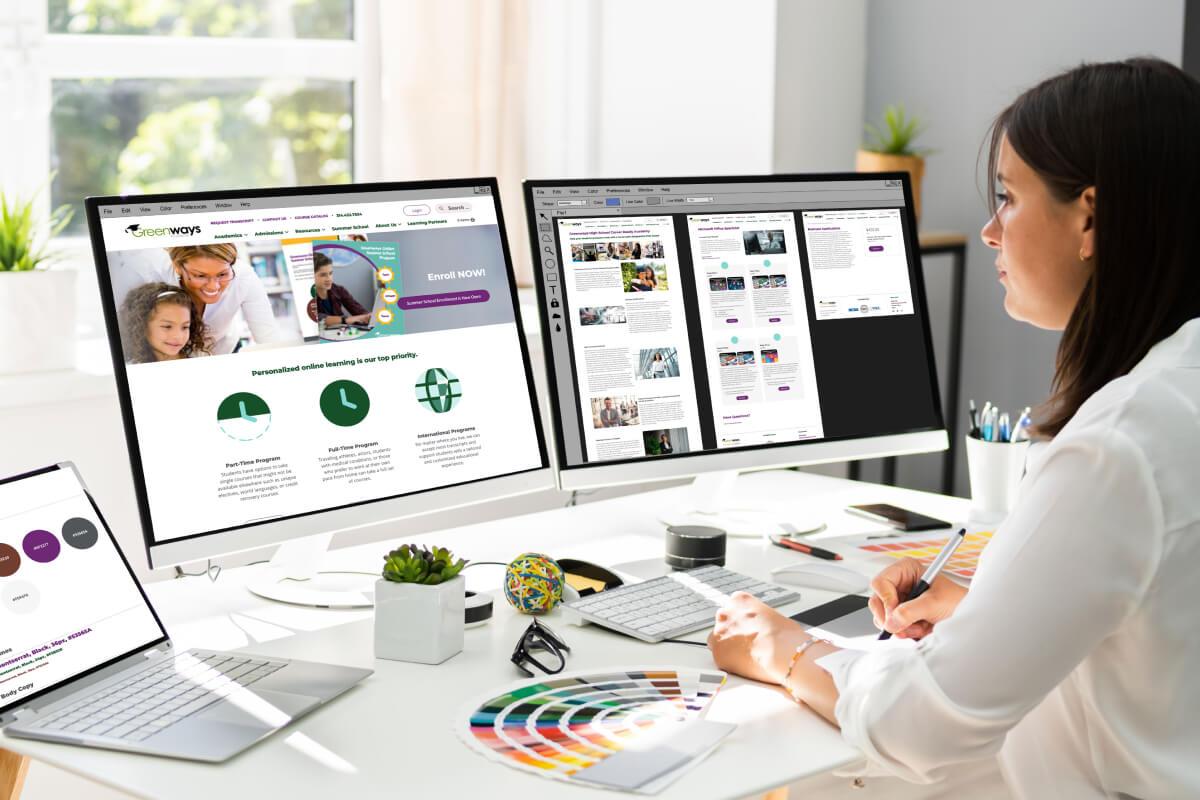 Section One

In this section, students will develop an understanding of computer basics that will lay the groundwork for a career in IT. First, students will learn about computer hardware, maintenance to data management, storage options for network systems, administration, troubleshooting, and more! Then, students will advance their IT knowledge starting with an overview of programming, algorithms, compilers and web page design. Students will also explore security and cybercrime, emerging technologies, presentation software, intellectual property laws, and careers in the field of IT.
Preparation for the following Industry Certifications:
CompTIA Fundamentals
iC3 Computing Fundamentals
iC3 Key Applications
iC3 Living Online
Section Two

In this section, students will focus on the important component of web development within the world of IT. First, students will learn how to create content for the web as well as about key web elements such as servers, file organization, HTML, CSS, Javascript, and the development stack that will help them build any website. Next, students will take what they have learned about creating web content to the next level by applying design principles to achieve the greatest impact. They will also learn the behind-the-scenes tasks of organizing your files, ensuring website accessibility, following intellectual property regulations, and performing site backup and maintenance.
Section Three

In this Section, students will dig even deeper into the world of web development while extending their technological reach. First, students will learn the Agile methodology of software development and its role in leadership and teamwork. Students will also learn JavaScript to enhance their web development work as their efforts culminate in a professional portfolio using GitHub. Then, as students perfect their portfolio for future employers, they will learn about common coding errors and security threats, website accessibility and reliability, and become more fluent and efficient in JavaScript as they prepare to share their final website as a presentation to showcase their achievements.
Preparation for the following Industry Certification:
CIW Site Development Associate
Section Four

In this Section, students will learn about more advanced aspects of web design and digital media. First,students will explore how they can develop webpages that embed different media and interactivity using programming languages such as HTML and CSS. Then, students will explore trends, design principles, and security strategies as they design their own eCommerce site. They will also learn what it means to adhere to ethical and legal requirements and comply with industry standards and accessibility.
Preparation for the following Industry Certification:
ICT Web Design Essentials
Already started high school?
Want to fast track and earn an industry certification? Contact our Academic Advisor to build a customized educational plan today!